We offer a variety of ministries for members and non-members alike. Please call if you have any questions about our ministries.
Sunday School
The focus of our Sunday School is instruction in the Word of God and memorization of Scripture. Sunday School classes are available for all ages. The youngest play in the nursery. Pre-Kindergarten through High School students meet in classrooms, and adult class options are available.
Women's Missionary Society (WMS)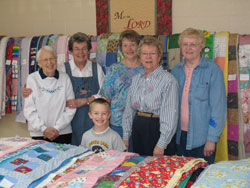 The women of the church gather on the fourth Tuesday of each month for Bible Study and fellowship. The primary focus of the WMS is to support the ongoing work of the congregation and missions. The WMS also meets each Tuesday during the winter from 9:00 am to 3:00 pm to make quilts for missions.
Confirmation
St Paul's offers a two-year program of instruction (seventh and eighth grades) in the basic truths of the Christian faith and doctrines of our church. Confirmation class meets at 5:30 pm on Wednesdays.
Youth Group
The St. Paul's Youth Group meets weekly on Wednesday evenings for Bible Study, fun and fellowship. Youth group starts at 6:30 pm each Wednesday evening. Each summer, youth have the opportunity to attend district and national youth retreats and camps.
To find out more about the national youth conventions and camps, visit the AFLC Youth Ministries website.
Kids' Club
Children through grade 6 meet at 6:30 pm on Wednesday evenings for Bible stories, Scripture memory, games, music, crafts and fun.
Bible Study
Adults meet at 6:30 pm on Wednesdays for a time of prayer and study through different books of the Bible.
Vacation Bible School
Children ages 3 through entering 6th grade are welcome to attend 5 days of fun and learning about God's Word. VBS for 2022 will be held on June 19th-23rd from 6:00 – 8:00. More information can be found at this link.